Home Reverse Osmosis Drinking Water Systems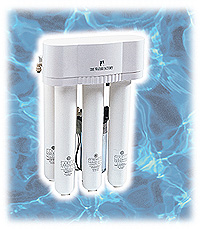 SQC PRO Series
SQC PRO Series
40-80 Gallons a Day Pump Pressurized Systems
SQC PRO 40 & 80 GPD (151-303 LPD) Series
HAVE A LARGE ACTIVE FAMILY, 3 OR 4 KIDS?
NEED A POWERFUL HIGH QUALITY WATER SUPPLY THAT WON'T QUIT
IF LINE PRESSURE DROPS? OR FAIL IF WINTER CHILLS THE WATER LINE?
You need a pressurized RO System that won't quit - THE PRO.
Simply put, the SQC PRO Series operates all pressure and all temperature conditions where water line pressure RO systems fail. The SQC PRO 40 will deliver 30 gallons per day at winter water temp of 43°F where all standard line pressure system will only deliver 0.5 gpd.
HAVE A WELL AND WANT A CONTINUOUS STREAM OF SAFE WATER TO YOUR KITCHEN?
BOOSTS OUTPUT WATER PRESSURE TO 66 PSI WHICH ALLOWS FOR DELIVERY AT DIFFERENT POINTS IN YOUR HOUSE, OFFICE OR RESTAURANT
This extremely compact pump driven RO supplies unparalleled performance since pressurized operation provides optimal contaminant rejection, with 98% reduction of dissolved metals and certain chemicals from your drinking water.
The SQC PRO Series comes in both 50 and 60 Hertz versions for universal application.
So compact (16"H x 11" W x 7.5" D and 41 cm. x 28 cm. x 19 cm.), the SQC PRO can be installed anywhere for multiple points of use throughout your home, office spaces or commercial kitchen/restaurant areas.
The SQC PRO, backed by the CUNO Quality 10-Year Limited Warranty, takes the worry out of water.